Top 15 Matterport Competitors and Alternatives Business Strategy Hub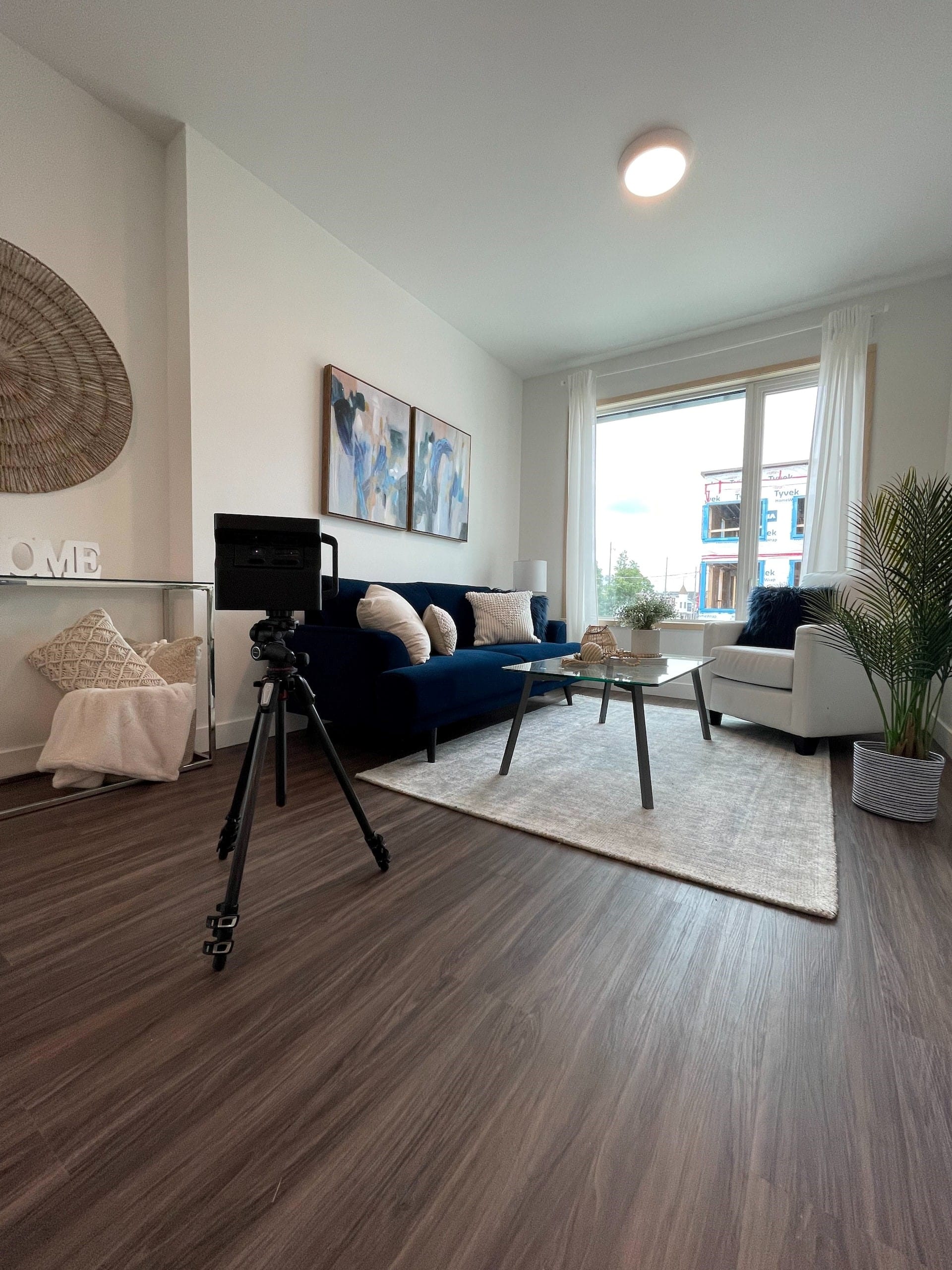 Matterport Inc. is a software company based in Sunnyvale, California, which provides an interactive viewing platform for 3D images and models. Dave Gausebeck, Matt Bell, and Mike Beebe founded the company in 2011.
Users can capture, create, upload, store, share, and experience 3D scans of real-world environments, also known as digital twins, using Matterport. The platform caters to real estate agents, retailers, architects, travel agencies, engineers, and constructors.
As of September 2022, Matterport's 3D capture service had around 657,000 subscribers. The platform has scanned and stored about 8.7 million spaces since its launch. [1]
Matterport was the first platform to digitize and collect spatial data. It offers Matterport Cloud, Matterport Camera, Matterport Capture App, Matterport CoreVR, and Matterport 3D Showcase, and users can purchase its 360 Camera, Pro2 RD Camera or Pro2 Lite 3D Camera to capture 3D models (Matterport Space).
In 2022, the company launched Matterport Pro3 Camera and acquired VHT Studios. VHT Studios' solution integrates with the Matterport 3D Digital Twin platform to enhance the buying experience for home buyers and simplify real estate marketing. [2]
However, Matterport faces stiff competition from Autodesk, RTV, Procore, Oracle, Zillow, and Touchplan.
Here is an in-depth analysis of Matterport's top 15 competitors and alternatives:
1. Autodesk Construction Cloud
Year founded: 1982
Headquarter: San Francisco, California
Autodesk is an American multinational software corporation. It offers software products and services for several industries, including architecture, education, engineering, construction, manufacturing, media, and entertainment.
In 2022, Autodesk had around 12,600 employees and made over $4.39 billion in revenue.
Autodesk Construction Cloud competes against Matterport in the construction industry. In Nov 2022, Autodesk launched several updates for its Autodesk Construction Cloud product.
The company also introduced reality capture and new BIM model-based workflows to help users map and visualize assets in Autodesk Build in 3D. Autodesk Construction Cloud is the top Matterport alternative for project collaboration. [3]
2. Real Tour Vision (RTV)
Year founded: 1999
Headquarter: Traverse City, Michigan
Real Tour Vision (RTV) offers virtual tour software for real estate agents, brokers, property owners, and photographers.
In May 2022, RTV added social media syndication buttons to its property website. This feature allows users to distribute virtual tours via Facebook, Twitter, LinkedIn, and Pinterest.
RTV provides interactive 360 panoramic virtual tours, real estate photography, invoicing, virtual staging, client portals, and a storefront.
In Mar 2022, RTV added Order Email Notifications and a payment toggle feature to its Delivery Site. Real estate agents can now manage the entire home sale process on the platform, from marketing to order placement and invoicing. RTV is the best alternative to Matterport for real estate agencies. [4]
3. Procore Technologies
Year founded: 2002
Headquarter: Carpinteria, California
Procore is a leading construction management SaaS company. The platform connects project stakeholders, including owners, contractors, and team members.
As of 2022, Procore facilitated over 1 million projects and surpassed $1 trillion in construction volume. The company has more than 2,000 employees and serves 14,086 organic customers.
Procore's platform streamlines project and cost management and team communication and collaboration. Users can access partner solutions on Procore App Marketplace and integrate them to boost productivity.
In 2022, the company launched Procore Workforce Management and opened a new office in Dubai to serve the Middle East and North Africa. Procore is a fast-growing Matterport competitor. [5]
4. Oracle Aconex
Year founded: 2000
Headquarter: Melbourne, Australia
Aconex was a listed public Australian company providing collaboration solutions for project information management. In Dec 2017, Oracle Corporation acquired Aconex, and expanded its SaaS collaboration technologies globally as Oracle Aconex.
Oracle Aconex and Matterport help professionals execute tasks more efficiently. The main advantage of Aconex is its security-focused data ownership model that addresses design-build project challenges.
The model ensures every project organization has its own private and secure workspace. Oracle Aconex is one of the best alternatives to Matterport for project managers. [6]
5. Zillow 3D Home Tour
Year founded: 2019
Headquarter: Seattle, Washington
Zillow 3D Home Tour is a free virtual tour app. It is an AI-generated floor plan tool designed to meet the needs of real estate agents, homeowners, and home shoppers.
Zillow launched its 3D home tour solution across the US to help consumers find their dream homes. [7]
Both Zillow and Matterport provide virtual tour solutions for real estate agencies. Zillow users capture panoramic photos with the free 3D Home app and a 360-degree camera. Then, the company applies computer vision and ML models to generate 3D Home tours and interactive floor plans.
Real estate agents can use these virtual tours to promote their listings via Zillow, Redfin, websites, email, or social media platforms. Like Matterport, Zillow also leverages AI and machine learning to generate digital twins. Zillow is the best free Matterport alternative.
6. Touchplan
Year founded: 2013
Headquarter: Boston, Massachusetts
Touchplan is the software division of MOCA Systems, which offers construction planning and management tool. This cloud-based solution streamlines team collaboration on projects. In Apr 2022, Touchplan surpassed 50,000 all-time users.
Touchplan connects field subcontractors and project managers to their team members and offices and allows users to implement phase, weekly, and real-time planning.
In 2022, the company launched clickable hyperlinks, a bulk ticket import tool, and Touchplan API. Its API allows users to retrieve and manipulate construction project data. Touchplan is one of the top alternatives to Matterport for construction planning. [8]
7. Cupix
Year founded: 2015
Headquarter: San Jose, California
Cupix is a leading 3D and 360° virtual tour creation platform. The company helps the ENR Top 300 architecture, engineering, and construction firms leverage digital twin high-fidelity situational and visual context. In Apr 2022, Cupix released CupixWorks X 3D digital twin platform.
CupixWorks X uses the Gamma Engine, a 3rd generation AI engine that provides a 360° video SLAM with ClearVision tech. The Gamma Engine enables elevation-aware 3D walk-path mapping and minimizes motion drift.
Like Matterport, Cupix has extensive back-end editing tools and team collaboration features. Both companies cater to professionals across various industries, from real estate to retail, architecture, and construction.
In 2022, Cupix expanded into Australia and opened a new office. With CupixWorks X, Cupix can give Matterport a run for its money. [9]
8. Fieldwire
Year founded: 2013
Headquarter: San Francisco, California
Fieldwire is a job site management platform that caters to general and specialty contractors. It offers several device-agnostic features to help construction professionals plan, manage, and prove project tasks.
In Nov 2021, Hilti acquired Fieldwire for $300 million to bolster digital transformation for its customers. [10]
Fieldwire simplifies sharing of blueprints, files, and RFIs for project managers, engineers, and supervisors. Construction professionals have planned and managed more than 1 million commercial, industrial, and residential projects on the platform.
In Sep 2022, the company expanded into the EU with the help of Hilti's experienced sales team. As a subsidiary of Hilti, Fieldwire has enough resources to compete and poach some customers from Matterport.
9. Cedreo
Year founded: 2005
Headquarter: Saint-Herblain, France
Cedreo is a leading SaaS 3D home design solution. It helps homebuilders, interior designers, and remodelers create photo-realistic 3D renderings of properties.
In 2022, Cedreo had more than 5,000 housing and construction professionals on its platform. The main competitive advantage of Cedreo is its superfast rendering process, and users can produce a conceptual drawing of a complete house within 2 hours.
In Mar 2022, Cedreo partnered with CostCertified to provide an integrated solution to accelerate home sales. Construction professionals can now execute the entire home sale process without leaving the platform. Cedreo is an easy-to-use alternative to Matterport. [11]
10. Newforma Project Center
Year founded: 2003
Headquarter: Manchester, New Hampshire
Project Center is a unified project information management solution offered by Newforma, the pioneer of the PIM software. It consolidates data scattered across the project environment, from the office to the cloud.
In Jul 2022, Newforma Project Center served over 1,500 architecture, engineering, and construction companies.
Newforma and Matterport provide tech solutions to improve project delivery; however, Newforma is a PIM specialist. In Jul 2022, the company updated Newforma Project Center with MFA and Autodesk Construction Cloud connector. These features enhance cyber security and boost collaboration between teams using Newforma and Autodesk.
Newforma Project Center is a worthy alternative to Matterport for project information management. [12]
11. EyeSpy360
Year founded: 2016
Headquarter: London, United Kingdom
EyeSpy360 provides an online virtual tour solution for real estate agents and photographers. Users can create 3D tours and floor plans and add text, video messages, and Google Maps photos.
Additional services offered by EyeSpy360 include virtual staging, social media posting, real estate photography, and EyeSpyLEADS for generating real estate leads.
Like Matterport, EyeSpy360 creates virtual tours, 3D models, and 2D floor plans using 360-degree images. Users can upload 360 photos on a browser-based platform for EyeSpy360's team to build virtual tours or 3D models.
Unlike Matterport, EyeSpy360 doesn't require expensive cameras. Customers can use smartphones or 3D cameras to capture 360-degree images. EyeSpy360 is a user-friendly alternative to Matterport. [13]
12. busybusy
Year founded: 2010
Headquarter: St. George, Utah
busybusy is the leading time-tracking and job-costing software for construction professionals. It combines GPS with a web and mobile app to help users automate employee scheduling and project documenting. According to busybusy.com, the company offers Free, Pro, and Premium plans.
busybusy allows contractors and project managers improve job costing and simplify payroll processing and employee scheduling. For example, employees no longer need to punch paper time cards when they report to the job site.
Free users can access job costing tools and GPS time tracking to tag clock-ins and clock-outs, and the Pro plan offers analytics, software integrations, photo documentation, and more. busybusy is the best Matterport alternative for time tracking and job costing. [14]
13. Ecobot
Year founded: 2018
Headquarter: Asheville, North Carolina
Ecobot is a cloud-based platform used for optimizing mandatory environmental permitting. It helps businesses in the architecture, engineering, and construction (AEC) sector start construction projects quickly by streamlining data collection.
In Jan 2022, Ecobot raised $2.81 million to expand the environmental permitting scope and build additional project management tools. [15]
Ecobot provides efficient, accurate, and reliable data collection strategies to wetland scientists and civil engineers. Like Matterport, Ecobot also transforms field data into digital twins.
Users have generated over 45,000 pre-construction environmental analysis reports on Ecobot, making Ecobot the best alternative to Matterport for digitizing the permitting process.
14. Raken
Year founded: 2012
Headquarter: Carlsbad, California
Raken is a construction management software company. It offers a mobile, cloud-based app that helps construction professionals create daily reports, time cards, and workflows from their devices in the field. According to G2, Raken has a 4.6-star rating from 61 customer reviews.
Raken offers robust features to simplify construction management. In 2022, Raken customers created 135.8K projects, signed 2.47 million daily reports, and logged 671.2K time cards.
The platform allows users to snap jobsite photos, hold safety talks, and complete quality checklists. In 2022, the company introduced Raken Messaging and integrations with Sage 100, QuickBooks Online, Holobuilder 3600, and EarthCam. These enhancements increase Raken's competitive advantage over Matterport. [16]
15. Space Designer 3D
Year founded: 2010
Headquarter: Lyon, France
Space Designer 3D is an online 3D design service offered by Asynth, a European technology company specializing in architectural design and visualization. Users can render buildings or architectural spaces and view their projects in 3D.
Space Designer 3D offers user-friendly tools and two 3D view options – 3D Walk and 3D Global. So, pros and beginners can sketch an architectural proposal on the platform in a few minutes.
Unfortunately, Space Designer 3D doesn't provide a free plan, and its paid options range from $10 per project to $100 per project. Real estate agents can use 3D Walk to create immersive experiences for potential home buyers. Space Designer 3D is a top alternative to Matterport. [17]
 References & more information
 Tell us what you think? Did you find this article interesting? Share your thoughts and experiences in the comments section below.